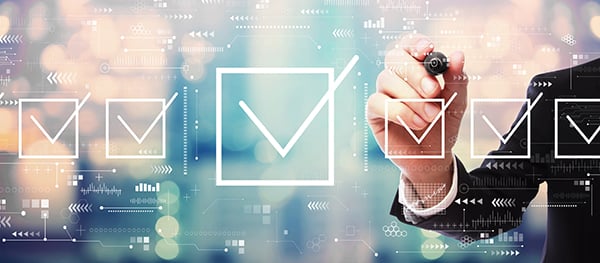 The new year brings with it a chance at a fresh new start – even for your business. You have probably already set your business plan and goals for the year, but one thing you might not have factored in is technology. We all know each year brings changes and advancements in technology and compliance regulations, especially in the healthcare field. Assessing your technology needs is a great way to start out the year to bring positive changes for your business and to help you reach you planned goals.
Technology tools are in place to help employees do their job more efficiently, faster, and just all around better. Some companies might not realize they are not using all of the technology available to them to its fullest potential. We have broken down a simple way to assess your technology needs and define your plan of action with obtainable goals into four easy steps.
4 Steps to Assessing Your Technology Needs:
Step 1: Discovery
First, spend some time doing an audit of your technology eco system. Find out the who, what, why, and how of those using your system. Diving into who is using the various technology tools, how, and for what purpose will go a long way. Next, review the systems your company is using as well as the processes and ways of connecting various systems. Last, look where and how the data is being stored. Then you can ask yourself a few questions:
- Is there room for updates or improvements to be made?
- Is your system current with technology standards?
- Is it up to industry best practices?
- Are employees struggling to be efficient in their roles due to technology?
Step 2: Analysis
Once you have a thorough understanding of your technology and its uses, it's time to dive deeper as to how you can streamline how it is being utilized in greater detail. Organizations often have misused technology, issues with workflows, or aren't using everything included in their system to help simplify processes. At this step, you can also easily identify gaps in technology needs that need attention. At the end of this step, you will have developed a list of needs and wants for you company's technology.
Step 3: Identify & Develop
At this point, you have already created your goals and are knowledgeable of needs, problems or areas that need to be filled or adjusted, so it's time to start thinking about the next steps for how you can attain your goals. Develop a roadmap that focuses on the most pressing issues from a technology standpoint first. Smaller pain points can be in later phases of the roadmap development. This plan of action will help drive your company forward. It will be key to make sure you're up to date on all industry standards and look into how future changes in regulations will change what you are doing today and be prepared.
Step 4: Implement
The last part of your technology assessment will be to provide a project implementation plan. Sound complicated? This plan will include an overview of your strategy, precise details of the implementation process, and a detailed timeline and execution outline. It is important to keep your team and all key decision makers and those that the changes will affect in the loop. Even at this stage, there may be discoveries from the team that could alter the overall course of the assessment and actions needed. It's important to remain flexible changes to best benefit your operational goals.
Did any of the Technology Assessment process seem a little too daunting? If your organization is not sure of the last time technology tools were evaluated, don't have the time, or if you are just curious if there is a way to build a "better mousetrap," it is time to engage CareServ. We understand the healthcare and technology industries inside and out. We get how to balance improvements to the staff and patient experience while staying compliant. We take the time and assess your current and future needs to recognize gaps and map out a path to help you keep your organization running efficiently. CareServ can help at any stage of your technology assessment and execute to help your company move forward.
If you're looking for a supportive IT company, focused on the healthcare industry to help you accomplish your technology needs and goals, CareServ is an easy choice to make. Get in touch with us today and get your new year off to a positive start. Contact: info@gocareserv.com
for more information.