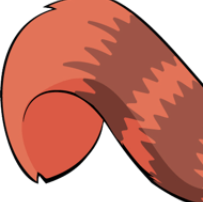 We all know it 2020 has been a special sort of year. Its been the year of the coronavirus pandemic which has affected everyone and in a profound way. It has isolated us and had us scrambling to deploy drastic changes to our systems and architecture so that we all could continue to be productive, speak to love ones and colleagues and communicate! Video conferencing like WebEx, Zoom or Microsoft Teams, became the new normal. Having a highspeed connection, large enough monitor or screen to share information as well as clear audio equipment makes these meetings more enjoyable/tolerable (whichever way you want to look at it)!

Temperature Screening
Aside from the normal forehead scanning devices that require close proximity between two people, the latest temperature screening devices are contactless, self-standing and able to scan faces with a mask on or off within a second to indicate an elevated temperature at points of entry. Far improvement in this category ensures every safety measure is in place for senior communities, medical facilities, offices or even schools without breaking 6-foot social distance guidelines. This eliminates the need to have a full-time employee stationed at point of entry for manual temperature checks. Instead, it utilizes a green light go, red light stop system to monitor people, staff, vendors and visitors within seconds. Alerting and even notifying a member on staff of an elevated temperature before the person is even allowed entry into the building. Learn more about the Xenon Fever Defense System here.
Increased Sanitization Processes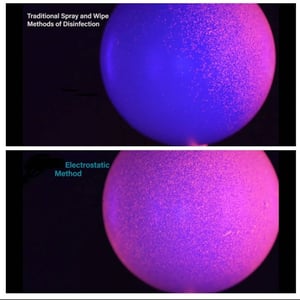 Pre-Covid keeping a clean, germ free environment for those deemed most at risk was already a priority. With the addition of COVID-19 even more so. As a result, there has been an increase in the utilization of best practices around infection control and prevention including the use of Electrostatic Sprayers for both disinfectants and antimicrobial solutions. These are the best methods for providing the most complete coverage. They work by charging the solution as they pass through a sprayer nozzle. This generates charged fine mist droplets that repel one another and actively seek out environmental surfaces, which they stick to and wrap around to coat all sides. This provides a 360 degree wrap around the object and eliminates dead zones that are almost impossible to reach. Less solution, better coverage, short drying time and quicker application method are just a few of the benefits. We have seen this application used by a wide variety of industries and as a result we have seen several month backlog from manufactures getting these devices to market. In addition-disinfectants like our CareGuard which is a disinfectant tablet with a three year shelf life that dilutes in warm water and provides a self sanitizing disinfectant for up to 24 hours as well as the widely popular CareShield which is the Antimicrobial Solution which is safe for both hard and soft surfaces and continues to self-sanitize for up to 12 months! Schools, offices, nursing homes, assisted living can all benefit from the use of these effective solutions.
Introduction of 5G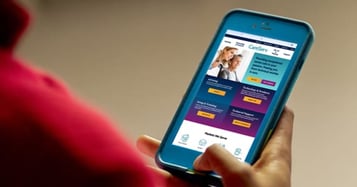 5G Networks rolled out this year-so what does that mean? It means your life will change, maybe slowly at first but it will impact everything mobile from how you stream video to how you interact with "smart" devices. It is the fifth generation of cellular wireless/mobile technology. This will change what we expect in healthcare and will affect every aspect of the healthcare ecosystem from diagnostics, monitoring, virtual care and more. It will be life changing. Imagine large data uploads and downloads, such as MRI's, to only take one or two seconds instead of minutes. Getting critical communications in real time. Communications between caregivers at all levels will be instantaneous. So, when will 5G arrive for you? Well that all depends on where you live, what carriers you have, availability of 5G devices, the type of buildings you are in and what type of infrastructure you currently have. As 5G ecosystems grow, so will coverage and the number of medical devices equipped for 5G. These can include sensors, wearables, telemetric equipment and more. It took about 7 years of deployment to reach maturity on 4G and its far from obsolete so we can expect 5G to follow a similar timeline.
Improvements in Productivity Software
April of 2020 Microsoft rebranded their Office 365 to be now called Microsoft 365. Microsoft calls it "the world's productivity cloud" and it represents their vision for the future of Microsoft productivity tools. Including things like artificial intelligence and other cutting-edge innovations to work for you. Also noted new capabilities for Microsoft Teams to help host meetings and events online; cloud file storage and sharing capabilities so that you can collaborate from anywhere with security and identity solutions to safeguard your business.
CareServ also now deploys chromebooks that launch into kiosk mode which allows staff to pull up their eMAR (Electronic Medication Administration Record) page within their electronic health record (EHR). This is a simple "click and play" shortcut to speed up this process at medical facilities and eliminate keystrokes for the user. Allowing time in administrative/data entry to be more efficient.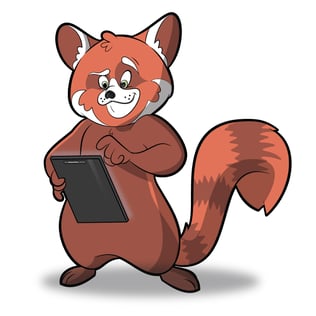 Introducing "Techie"!
With an overwhelming response from our internal team, social media and our clients we have settled on a name for our adorable Red Panda Mascot. "Techie"! Which means a person (panda) who is an expert in or enthusiastic about technology, especially computing. Fitting name for sure.
Increased Industry Security Needs
There has been an increased amount of cyber security threats and hacks all over the news this year especially around healthcare. We have highlighted our Technology Assessments this year as an all important component to combat those all important security concerns and conversations to uncover vulnerabilities, highlighting the danger as it relates to a client's specific situation and let them know how we can secure their precious assets. Schedule your Technology Assessment today!
CareServ Footprint Expansion
Last but certainly not least CareServ is expanding our footprint providing expansion into other healthcare related industries including Dr. Offices, Dental locations, Therapy Offices and even Hospice. CareServs commitment to investing money and resources into supporting Healthcare and Healthcare related industries just reinforces our dedication to this industry. Despite this crazy year "We really wanted to double down here," said CEO Jeremy Spradlin. "Taking care of those who take care of others is at our core. With this expansion we can share our expertise in technology and support to a wider audience all while maintaining the utmost level of service our clients have come to expect."
Looking forward to 2021!